Meet your Hawaiian travel experts and trusted travel advisors:
Paula
Paula started Travel to Paradise in 1999, after several years in the tourism industry.  An avid traveler herself, she mixes her unique local expertise and love of travel with a special attention to the needs of her clients.
As a certified destination specialist with Masters designation for all the Hawaiian islands, Paula is also one of the top certified specialists with several top-tier hotels and resorts.  While she excels in honeymoons and family travel, Paula provides a range of tips and deals to make your Travel to Paradise memorable and beyond expectations.
Meg
Meg is a 20+ year veteran of the travel and tourism industry.  She spent her first 10 years sailing around the globe on cruise ships and having never found a people and culture as beautiful as Hawaii, she moved to Paradise and is dedicated to help others discover the amazing Aloha Spirit.
Our combined 40 years of travel experience in Hawaii gives us a unique advantage over other travel sites and services. We have special connections to guarantee unrivaled experiences. Our expertise is only matched by our passion and dedication to our clients. Thousands of satisfied customers over the years have trusted Travel to Paradise as their Hawaiian Travel Agent Experts. We hope you'll be among them!
Certification
As additional peace of mind for our clientele, Travel to Paradise is proud to be able to display the numerous certifications and commendations we've acquired throughout the years.
---
Hawaii Visitors Bureau Certifications - The Hawaii Visitors and Conventions Bureau is the resource for Hawaiian vacations and creator of GoHawaii.com, Hawaii's official tourism site. In a nutshell, my Hawaii Visitors Bureau designations signify that I have completed rigorous training and education to become a Hawaiian Islands specialist and have earned the coveted Hawaii Tourism Authority's seal of approval as a recommended travel agent (yay!). The Bureau runs certification programs for each island and there are different tiers of certification travel agents can achieve.
Hyatt Travel Agent Of The Year (North America)
Paula Takamori, of Travel to Paradise in Oahu, received the top award for being a true Hyatt supporter. Her prizes included a $5,000 Hyatt gift card; $5,000 American Airlines gift card and $2,500 in other gift cards and an original painting. Paula also won a $2500 Hyatt gift card to award to one of her clients. (Source)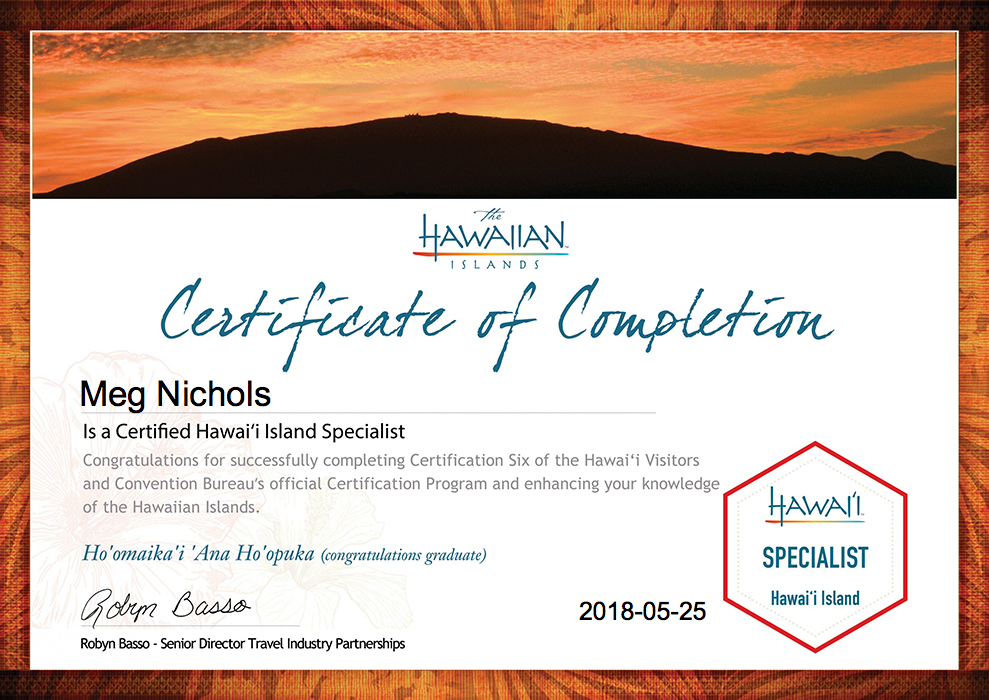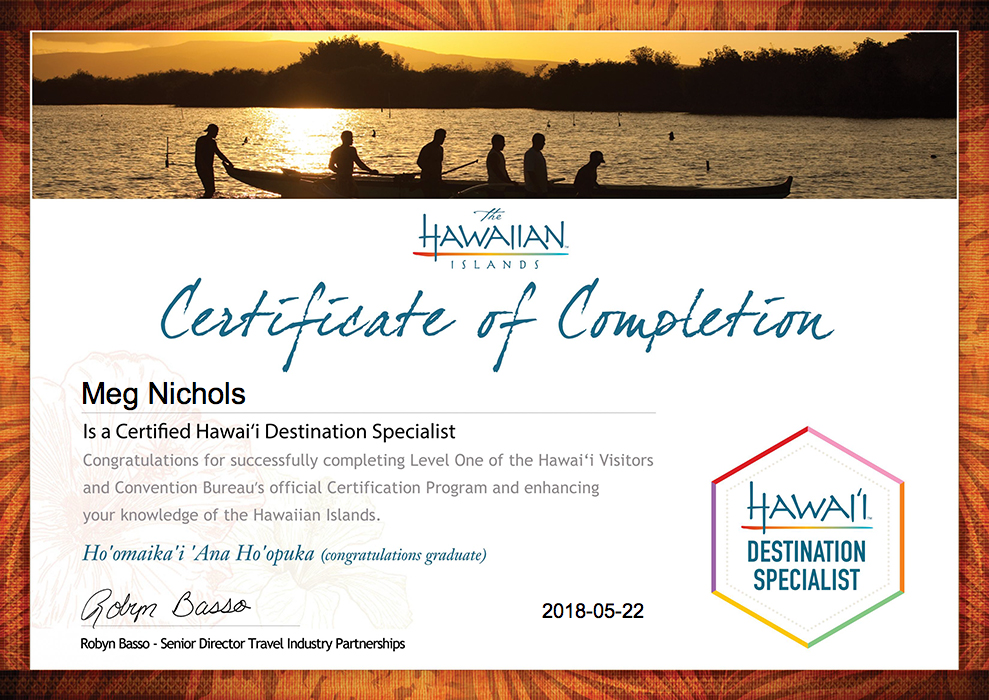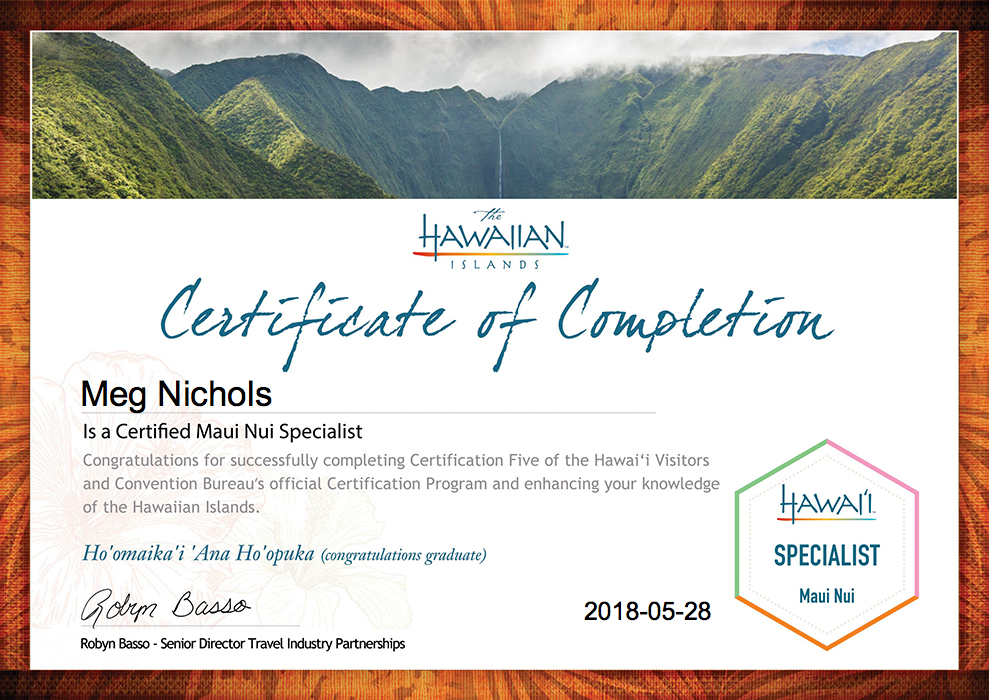 ---
WHY A HAWAII TRAVEL AGENT?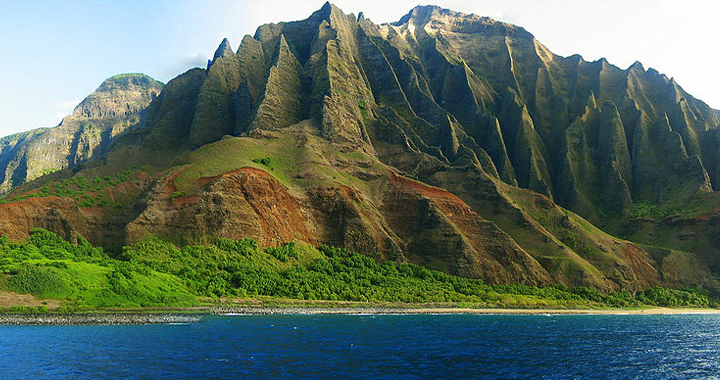 Some clients start arranging their travel online, get overwhelmed, and then realize a travel agent who lives in Hawaii can make a difference.
We understand the challenge: each island offers a unique perspective, areas on the islands can differ dramatically, and there's a wide variety of accommodations to choose from. As travel specialists, we bring a wealth of knowledge and real value to your travel planning: first, we get to know you and learn about your approach to travel, vacation priorities, and what you like to see and do.
Travel to Paradise is your travel advocate and we would love to share our knowledge of Hawaii. We've stayed at most of the properties we represent on all the islands. We'll help you decide the best places to visit and stay, for the best price we can find. We have many repeat clients who enjoy our professional, smiling service and would be honored to add you to our list. How? We'll send you photos of accommodation options, airfares and a quote, talk some more, suggest extra places to visit you may not know about, and offer suggestions on ways to avoid peak travel periods or save on hotels. Before you know it, you're counting down the days until you walk off the plane and feel the caress of Hawaii's island air. You'll appreciate seamless travel and a worry-free paradise, just as it should be.
You make the decisions, we save you money, and you enjoy the vacation of a lifetime. It's that easy! Ready to talk about what you're looking for in the land of Aloha? Don't have hours to devote to planning your Hawaii vacation?