Dear Meg,
We couldn't have had such an amazing holiday without your hard work, thank you. We really appreciate the thoughtful touches arranged by you for our stays. Your effort freed us up to have a magical time in Paradise. We are very grateful. Mahalo nui loa!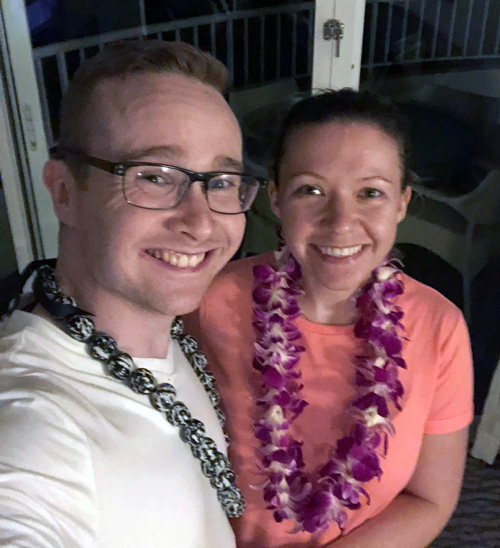 James & Caroline, Birmingham, UK
---
My husband and I traveled to Hawaii for our honeymoon. We are so lucky that we came across Travel To Paradise because our trip would not have been as magical, beautiful, and memorable without the help and guidance of our travel agent, Meg. We were immediately impressed by her responsiveness to our inquiry email and knew we were in good hands when she took our travel interests / goals / preferences and produced a full itinerary with 2-3 options at every stop along the way. She provided details for every option, including strengths and weaknesses of the various choices, and even included her experiences with these options. She helped us put together the perfect itinerary for our entire 10 day trip and took away all the stress of planning. We received personalized notes/letters from Meg at each hotel (all were stellar), had no issues traveling into and between islands using the flights she suggested and booked, and had a blast at every attraction and event we attended! Furthermore, Meg works closely with locally owned businesses so you have the additional benefit of knowing your money is going toward supporting locals! We recommend Travel To Paradise to all our friends and family who share any interest in traveling to Hawaii! We will be certain to work with Meg next time we go.
Thank you so much for making our honeymoon dreams come true.  We had the very best time exploring the entire Big Island.  With your guidance, we truly got the best of both worlds - adventures and relaxation.  We had an amazing time and really appreciate all you arranged to help us enjoy everything the island had to offer.  Thank you so much! 
Sincerely,
Casey & MaryBeth, New York, NY
---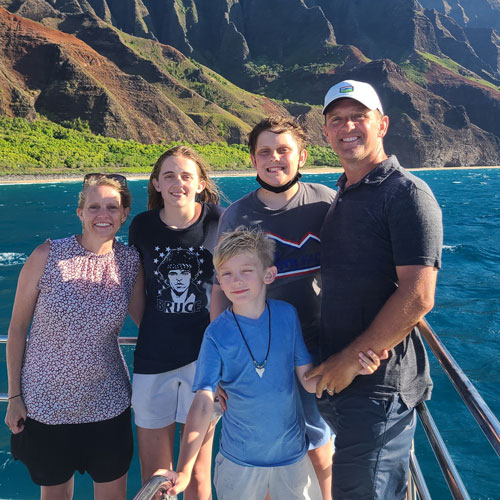 We used Travel To Paradise for our trip to Hawaii. Meg was incredible! She stayed in contact with me and really helped me navigate changing our dates/flights/plans during Covid. It was a stressful time with the uncertainty of travel but Meg kept us up to date and helped every step of the way, she really put us at ease. Every excursion and activity she helped plan for us was personalized to our family and exceeded our expectations. Absolutely couldn't have done it without her help and guidance. If you are planning a trip to Hawaii, call Meg at Travel To Paradise!
The Unk Family
Lewis Center, OH
---
---
Meg is such a sweet, personable, helpful person! She helped to take a lot of stress off my shoulders when we booked our very first Hawaiian vacation. She gave me multiple options to choose from and was very accommodating. She contacted the rental car company for us when I had a question about it. I plan on making another trip to Hawaii in the near future and will definitely be contacting Meg. So nice to have someone who lives IN Hawaii, help plan the perfect trip of a lifetime! You cannot go wrong with Meg!
Kim & Jared
Valley Springs, SD
---
Aloha fellow travelers,
I wanted to personally let you know about the amazing and outstanding travel planning services of Meg Nichols, from Travel to Paradise. I know a lot of people try to book their travel themselves these days...but think again...using Meg to help us personally plan and book our Hawaiian Family Adventure was the best decision we made. When I first contacted her, Meg was super fast in her reply. She listened to what my family's unique needs and wants were for our Hawaiian vacation. She put together a SPOT ON itinerary at an amazing price.
Meg also recommended a separate person to book all our activities (Zipline, ATV, Snorkel, Luau etc) . She was wonderful too.
Booking with Meg, at Travel to Paradise, literally helped my family enjoy paradise without a single worry or concern. Every hotel was prepared for us. Every flight, island transfer, rental car and hotel check- in was about as easy as it gets. My husband and I have traveled all over the world, from French Polynesia to Africa and back...and Meg's personal touch, with ****EXTRA Birthday SURPRISES for me, just added a cherry on top of our amazing Hawaiian Family Adventure.
Let Meg help you plan and book your trip. You will not regret it. She is on top of everything, knows details only locals know, checks in with you repeatedly, and can get you great deals.
We can't wait to get back to Hawaii! What an absolutely AMAZING adventure. Thank you Meg.
With Sincere Aloha,
The Sokol Rogers Family
John's Creek, Georgia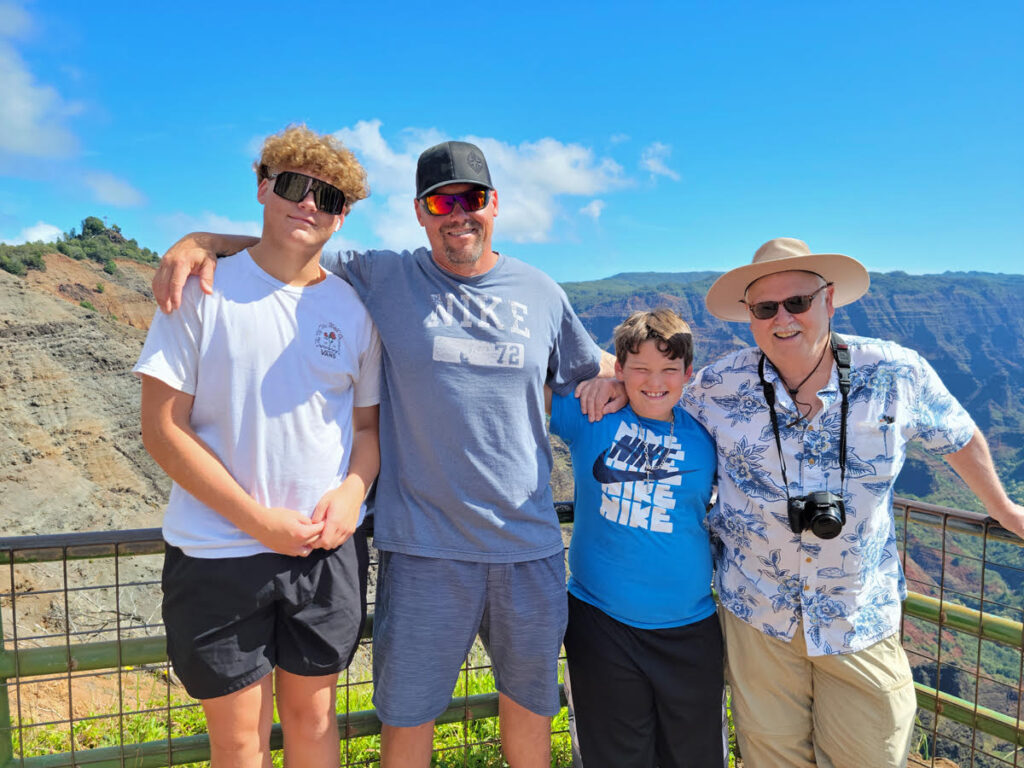 Paula,
Thank you for everything you did for us concerning our Hawaii trip.
We had a great time on Kauai!
Mary and Mike, CA.
---
Mesa, AZ ✈️ Maui - 2023
I highly recommend Travel to Paradise! Working with Paula was a great experience! She's knowledgeable, patient, honest and has the sweetest personality. I celebrated my birthday in Maui and she was a tremendous help with helping me organize, plan and book everything. She's super easy to work with, and gives the best recommendations and travel advice. Contact her for your next trip to Hawaii, you'll be so glad you did!!
Rochelle,
Mesa, AZ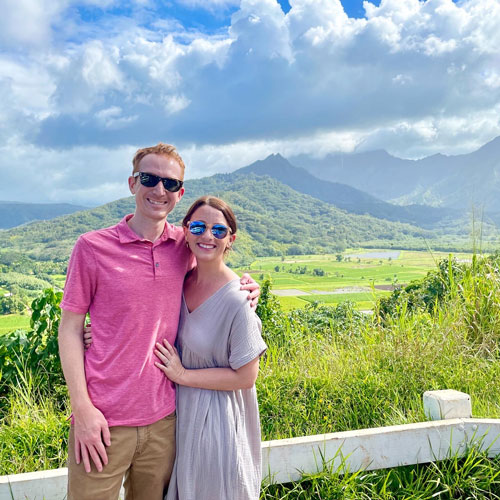 Paula,
I've delayed writing you this email because it means our trip is officially over. I'm not even sure how to express our gratitude for your guidance (and patience) with us while booking this trip.
Our trip was a dream - waking up to the sounds of waves (and roosters), enjoying coconut shrimp and endless pina coladas in our cabana, and exploring parts of the world we've never seen. Something I didn't share with you before - I was really close to my grandmother growing up, and she passed away 14 years ago. Hawaii was her favorite place on earth, and Kauai her favorite island. Being able to experience what she experienced held a sentimental value I cannot adequately express. We went all week without seeing a rainbow. On our last day as we were packing up on the beach, we turned around to see a vibrant, full rainbow. I swear it was my grandma saying "you see what I mean about this place?" 🙂
We cannot thank you enough for making this happen. We hope to work with you again in the (near) future. Thank you!!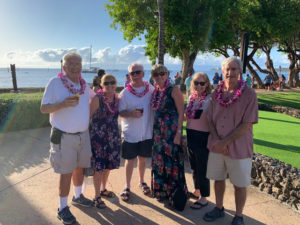 As we struggle to settle back to a normal life, six hours different from you, we are reflecting on the wonderful adventure you put together for Joan and I celebrating our 30th anniversary. We couldn't imagine anything more special. We asked for a varied 10-day trip within our budget and you fulfilled every wish. I really liked that you kept informed as to what you were planning, asking for our input. The reservations were all locked in and each place we visited was so welcoming and accommodating! It made us and our traveling companions feel very special. I've attached a photo of the six of us at the authentic Hawaiian luau. If it looks like we're having the time of our lives, that's because were!!! Warm regards, Steve and Joan Indianapolis.
---
Paula is an excellent, reliable and very friendly travel agent.   She took great care with every detail of our trip and was always available during our travels for slight tweaks.  We'll absolutely call on Paula again for our next trip to Hawaii! I love this photo of our first morning in Waikiki and thought I'd send it along - what a view! Sarah and Doug
---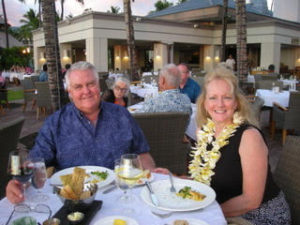 We have had a wonderful anniversary trip! We are so glad we met you and can't thank you enough for all of your help with our travels. You went above and beyond! We realized how much we have missed Hawaii and are already trying to figure out when we can come back. We will definitely ask you to help us with the details!! Mahalo, Vanessa and Duane.
---

Kelly and I just wanted to say thank you so much for assisting in setting up our honeymoon vacation to Hawaii.  We were super pleased with our accommodations and tours.  Even with the initial hic-cup of our flight getting cancelled (airline mechanical issue, not your fault) and not being able to see Pearl Harbor because of our late arrival due to the airline, you and your team really went the extra mile to ensure that we had a wonderful trip.  It's hard to find even good customer service these days, but you ladies  were Great!  Your pleasant assistance and professionalism were greatly appreciated!  Please let us know if we can assist as a reference in the future and we will be sure to recommend you to anyone we hear of going that way.  Thanks again for everything! L & K.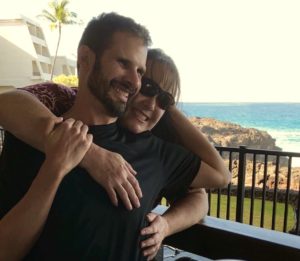 Hawaii is the most welcoming place I have ever traveled to.  The extra aloha spirit is something you can't help but instantly feel when you visit the islands, and it deepens the peace and love in the hearts of all who travel there. I want to give a special thanks to Paula at Travel to Paradise and her associate Karen who helped with the activities.  Without their help, we would never have been able to piece the trip together so well.  I would recommend them to anyone who was planning a trip to Hawaii.  They will spend hours of time on the phone with you, planning the perfect vacation.  They see to every detail and are not satisfied until they know you are. Brian and Dana
---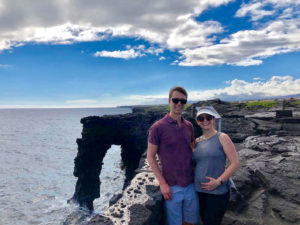 When you're expecting, everyone tells you to take a trip with your spouse while it's still "just the two of you." My husband and I wanted to do a Babymoon, and between both of our demanding work schedules, and preparing for the arrival of a new family member, we didn't have the time we needed to plan our "Babymoon." I enlisted Meg's help at Travel to Paradise because of all the travel agents I spoke with, Meg asked me the most questions and really gathered insights on what my husband and I were looking for in this trip. She was organized, thorough, and painted me such a great picture of what our Babymoon could really look and feel like in a way that felt designed just for us and we liked to do. Usually I do hours of research to plan my ideal vacation; but since I didn't have the time, I could tell that Meg would approach it the same way that I would have, and I trusted her local insights.
Meg referred us to a network of people who provided dinner recommendations and excursions for the two islands we planned to visit (The Big Island and Kauai). By the way, the helicopter tour over Kauai was the absolute trip highlight! And we enjoyed our Snorkel Cruise in Kealakeua Bay. Meg's connection who helped us select pregnancy-friendly excursions was so important to our experience and saved me hours of research.
Meg also was very responsive to questions, such as the best route to take to get from one side of the Big Island to the next, and because of her recommendations, we knew exactly which stops we should take along the way. We approached our Babymoon with confidence, and that made all the difference. My husband and I couldn't believe that we were setting on a twelve-day vacation without doing our usual research, but it turned out great: from stopping at the Black Sand Beach on the Big Island to see turtles sunning themselves, to visiting the arts town of Hanapepe in Kauai, our Babymoon is a treasure that we will always remember. Michelle and Chad