When people picture Hawaii, they think of lush foliage, waterfalls tumbling down craggy cliffs, sometimes cascading into natural swimming holes, fragrant tropical flowers, beautiful beaches, and amazing natural beauty.
The Road to Hana has it all!
Don't make the mistake of rushing to the town of Hana expecting to be dazzled .. the experience is in the journey, more so than the destination. The road itself is only around 60 miles long from its starting point in Kahului on Maui.  Fill up the car, grab some drinks and snacks, be sure you have a camera and off you go for a 2.5 – 3 hour drive.  (There are no gas stations or snack shops along the way).
The road to Hana is narrow, winding coastal road.  When we say winding, we do mean it! There are about 600 sharp curves and 54 bridges over chasms and waterfalls.  It's a long slow drive which makes it perfect for enjoying the scenery. There are lots of stops along the way to take pictures of the views. Make sure you have enough batteries for your camera and bug spray too .. you're going through a rainforest, after all!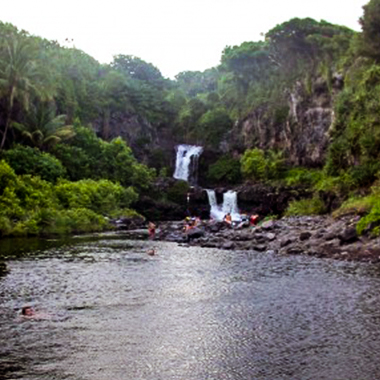 It's possible to take a tour to travel the road to Hana, advantage being everyone can look out the window to ooh and ahh.  If you'd rather drive it on your own, we do recommend renting a convertible or jeep to enhance this 360-degree experience.  You don't want to miss the tropical canopy overhead or the ocean and waterfall views along the road!
The best time to travel the road to Hana is super early in the morning to avoid traffic, especially if it is a day trip in and out on one day.  There are accommodations we recommend in Hana if you have the time to spend a day or more there too – it's perfect for a complete 'unplug and get away from it all' vacation, and for the outdoorsy hiking, biking, swimming type of activities. Added thrills when you are at Hana, are the black, red and white sand beaches near Hana town and the famed 'seven sacred pools' in Haleakala National Park, about 12 miles past Hana, and a stop at Hasegawa's General Store in Hana is a fun stop.
Here's an insider's tip: pick up a Road to Hana Map and audio CD for a fascinating narrated tour on your drive along the Hana highway, including the best lookout points, beautiful waterfalls and interesting history. You can find these at the Shell service station in Kahului for $20, and you'll find that was money well-spent.
The road to Hana is truly breathtaking – do try it!
Brought to you by Travel to Paradise - your Hawaii Travel Agent vacation expert!